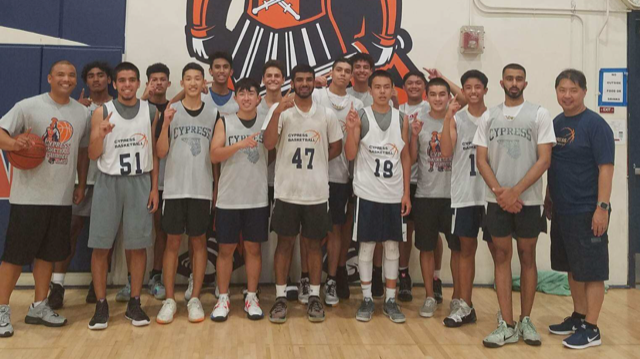 Coach Derek Mitchell (far left) led the Centurions to the championship of the Cypress Summer Clash. (Photo Tim Burt, OC Sports Zone)
Cypress High's boys basketball team has developed into one of the best in Orange County under Coach Derek Mitchell.
The Centurions are definitely earning respect.
When the CIF announced the winter playoff groupings on Friday, Cypress was among the 40 teams grouped in Division 1.
It's an honor for Cypress. But it's also a challenge.
"I was in shock when I saw that we were moved up to Division 1 for CIF," Mitchell said Wednesday. "Our players were excited when the news came, but realized we have to work harder than ever.
"We didn't even make the playoffs my first year at Cypress (six seasons ago). When we finally did, we were ranked (points based) at the bottom of 2A, then we moved up to 2AA last year and now Division 1.
"We will definitely face some challenges along the way. I think the size of our players will be number one. We have always been a little shorter than of most teams in our previous divisions, but now that size difference will be even greater.
"It's not something we are upset about or want to shy away from because we love competition. Our boys want to play against the best. Our goals will be the same as in years past, play competitively in our season tournaments, try and win league and then go as far as we can in CIF."
Other teams grouped in Division 1 include Canyon of Anaheim, JSerra, Orange Lutheran, Mater Dei, Santa Margarita, Trabuco Hills and Villa Park.
CIF officials said the groupings were made based on a number of factors, including strength of regular season schedule results and playoff results.
-Tim Burt, OC Sports Zone; timburt@ocsportszone.com